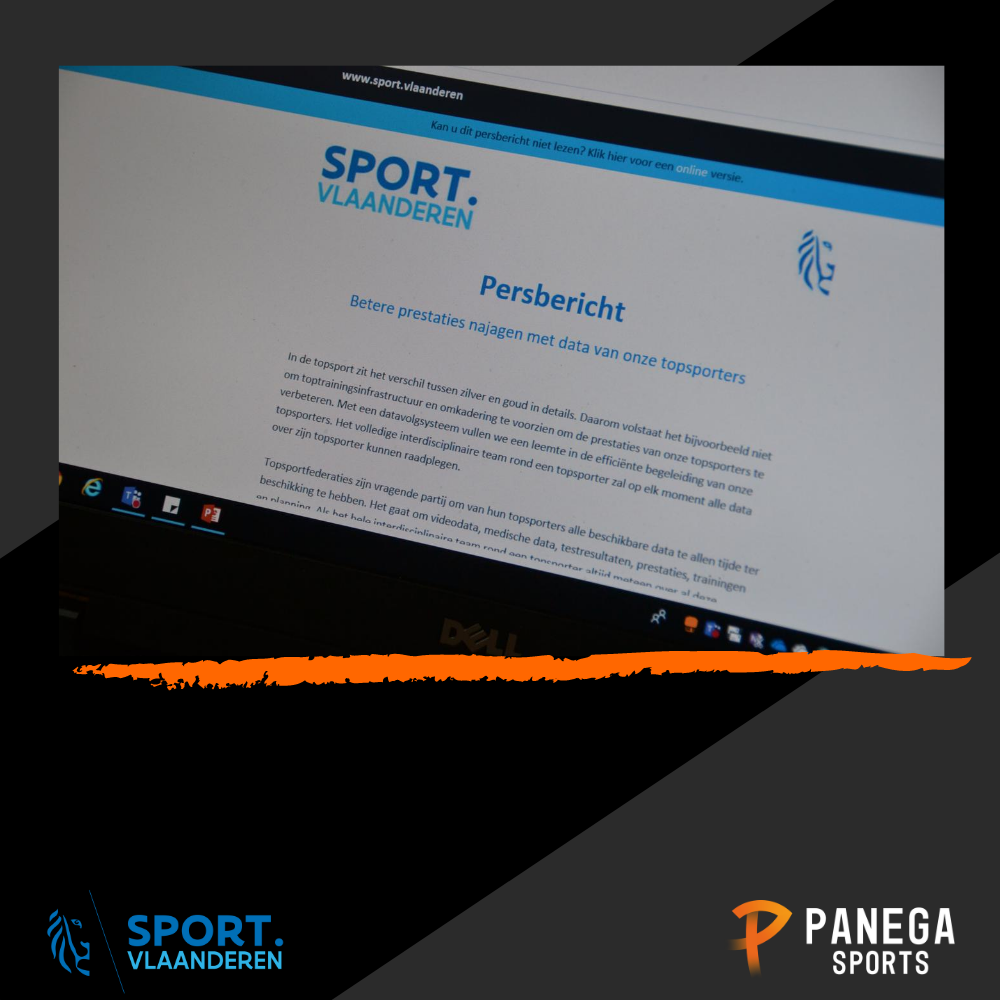 Partnership time !
Sport  Vlaanderen & Panega Sports
13/03/2019
(for Dutch version: https://www.sport.vlaanderen/nieuws/panega-sports)
As of today, the top sports federations of Sport Vlaanderen can make use of a data management system for their top athletes. 
In top sport, the difference between silver and gold is in the details. That's why, for example, it's not enough to provide top training infrastructure and frameworks to improve the performance of our top athletes. With a data management system, Sport Vlaanderen fills a gap in the efficient coaching of our top athletes. The entire interdisciplinary team around a top athlete will be able to consult all data about his top athletes at any time.
Top sports federations are a requesting party to have all available data of their top athletes at all times. This includes video data, medical data, test results, performance, training, and planning. If the entire interdisciplinary team around a top athlete always has all this information at their disposal immediately, guidance can be provided faster and more efficiently. It enables them to communicate, make decisions, and make adjustments quickly and correctly within the team. Top athletes can grow much more easily in an environment in which all their data is maintained, reported, and analyzed.  
Sports such as kayaking and G-sport, for example, have different needs to be able to follow up on their top athletes compared to tennis and football, for example. Today, those smaller sports rely on non-sport specific systems. In order to provide maximum support to each recognized top sports federation, only a tailor-made system can make the difference to beat the opponent.
Together with the top sports federations, Sport Vlaanderen started looking for a partner who can make that technically possible. That partner has become the Cronos Group. They will ensure that the top sports federations will be able to use a stable and tailor-made athlete management system until the Olympic cycle in Paris 2024. They will be able to use the first version as early as half of 2019. The BOIC will also participate. The medical module will be used at the Tokyo Olympics to better guide Team Belgium on site.
The Cronos Group is not an unknown player in the sports technology market. They have already proven their skills with SoccerLAB, TennisLife, and InTheRace. Panega Sports is the youngest member of the Cronos Group's sports portfolio, which will be further expanded in collaboration with Sport Vlaanderen to support all recognized top sports federations in their data management needs.